Zentral- und Landesbibliothek Berlin, Phase II: Anerkennung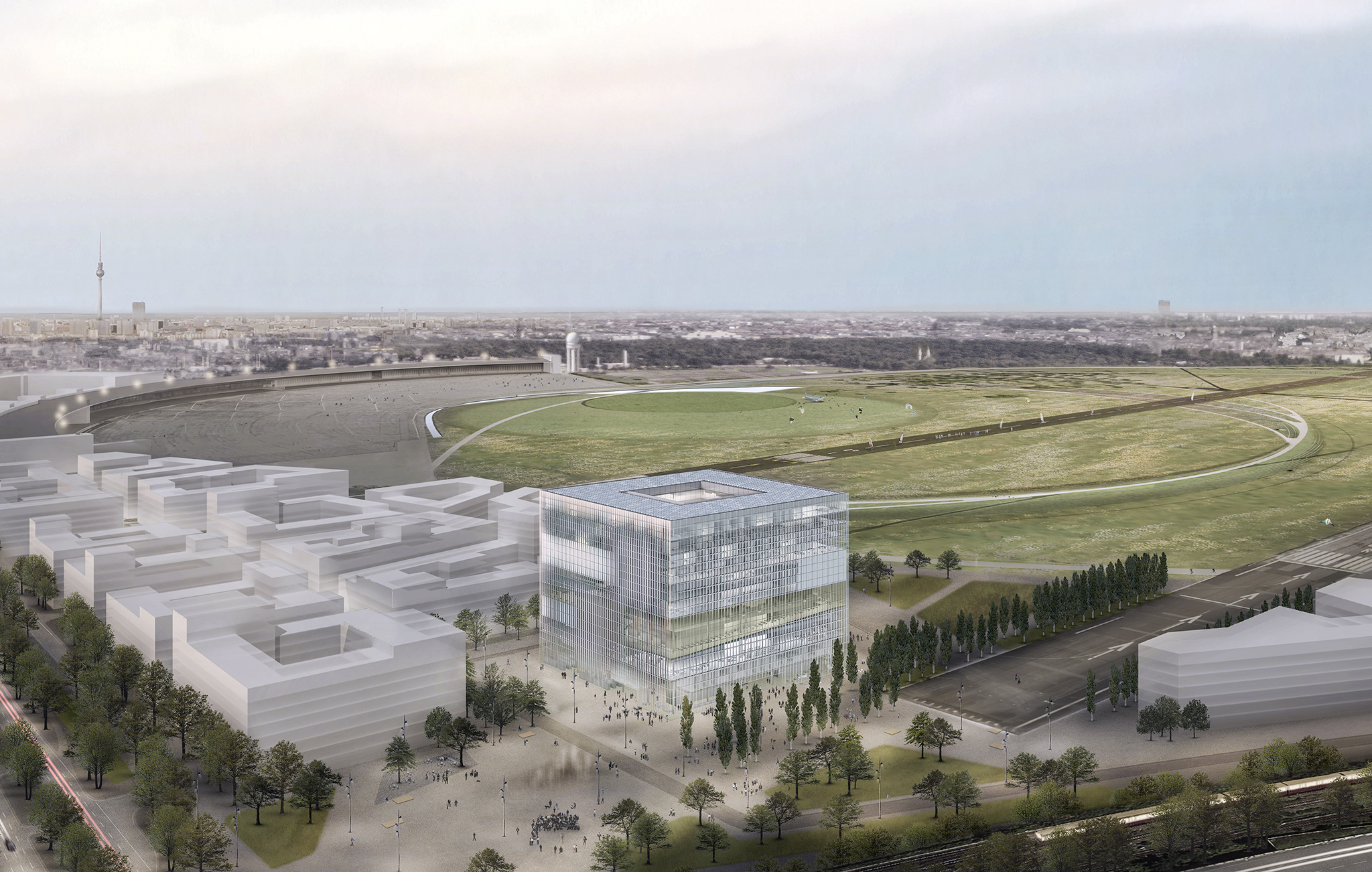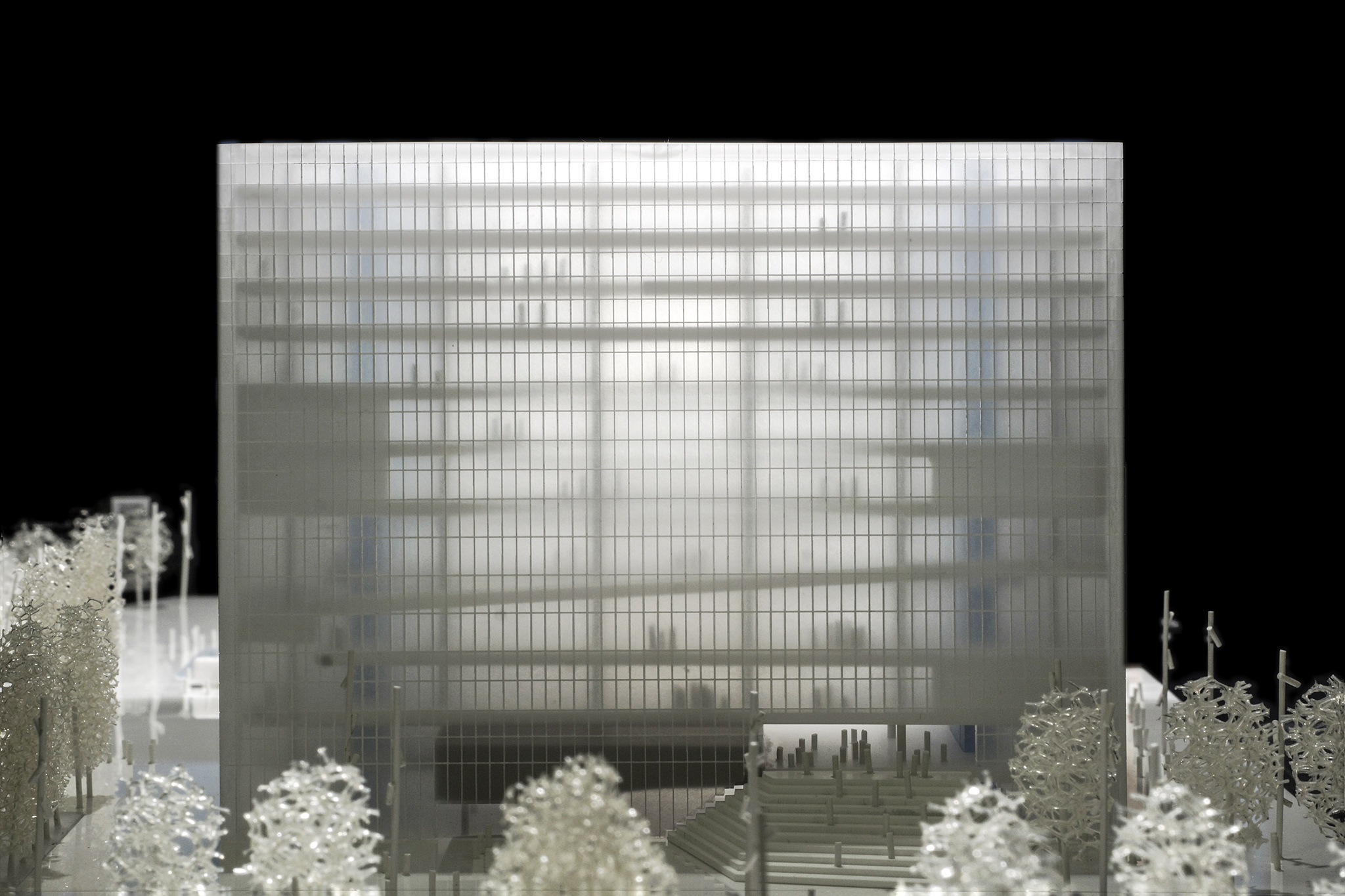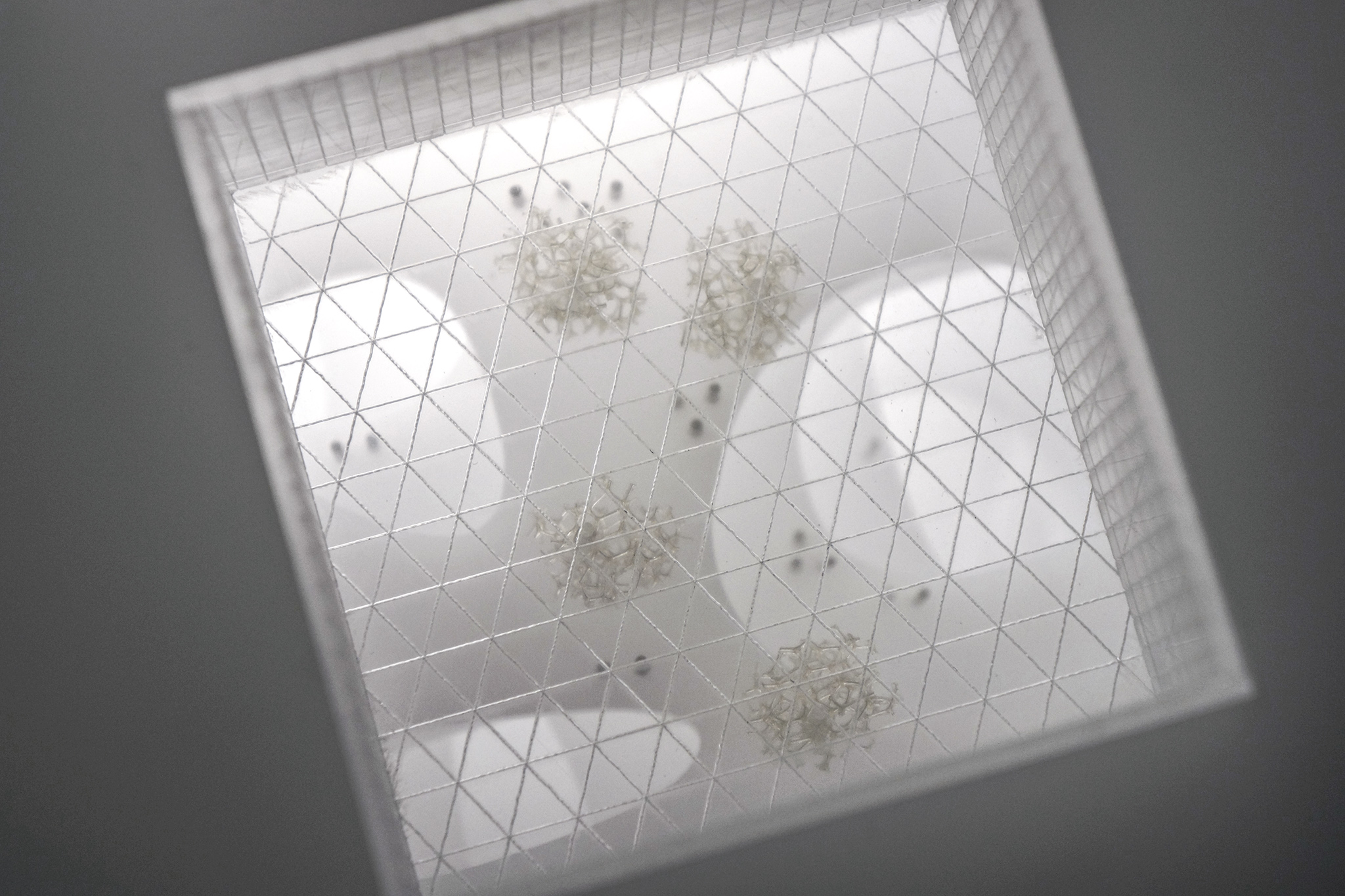 Die neue Zentral- und Landesbibliothek Berlin soll das soziale und kulturelle Zentrum des zukünftigen Stadtquartieres im Randbereich des ehemaligen Flugfeldes des Flughafens Tempelhof bilden. Der Entwurfsansatz zeigt ein Gebäude, das einerseits als urbane Landmarke dient und andererseits hohe Aufenthaltsqualitäten mit einer langfristig funktionierenden, hocheffizienten und an vielfältige Nutzerbedürfnisse anpassbaren räumlichen Organisation verbindet. So ist die Bibliothek als ein einfach begreifbares aber komplexes Gebäude mit einer starken äußeren Form und einer hohen Anzahl an unterschiedlichen Innenräumen konzipiert.

Der rechteckige Grundriss wird durch einen Ring aus vertikalen Serviceeinheiten und Erschließungen gegliedert. Dazwischen spannt sich geschossweise ein riesiges Feld auf, das hochflexibel ist und mit unterschiedlichsten Programmen bespielt werden kann. Die großzügig verglaste Fassade bietet beeindruckende Blicke auf die sich weit erstreckende Parkfläche des ehemaligen Flugfeldes.

Status Ankauf
Kategorie Nichtoffener Wettbewerb, Phase II
Ort Flugfeld Tempelhof, Berlin, Deutschland
Auftraggeber Senatsverwaltung für Stadtentwicklung und Umwelt
Entwurf MARS Architekten: Jan-Oliver Kunze, Tarek Massalme, Philip Rieseberg, Tobias Rabold, Marcin Szczodry, Onur Özdemir, Simon Schlinkmann, Uberbau: Ali Saad, Fabian Scholz, Javier Reboreda, Dorothea Kopp, Höhler und Partner
Fläche 91.918m²
Budget 270 Mio. Euro
Jahr 2013
Leistungsphasen Wettbewerb, Phase II
Projektbeteiligte TH Treibhaus + LAVALAND (Landschaftsarchitektur), schlaich bergermann und partner (Tragwerk), Janowski & Co. Beratende Ingenieure (TGA), brandkontrolle Andreas Flock (Brandschutz), Studio Dinnebier (Lichtplanung)
The new central and state library of Berlin is envisioned as the social and cultural centre of the future urban quarter on the margin of the former airfield of Tempelhof airport. The proposal follows the approach of constructing a building that on the one hand works as an urban landmark, and on the other combines high library stay-qualities with a long-term functioning and highly efficient spatial organisation, fulfilling the individual user's practical and logistic demands. In conceiving the library as an immense and complex building in conjunction with a strong exterior form, the design approach also offers a large amount of varying interior spaces.

The rectangular floor plan is based upon a fixed ring of service units, providing ultimate accessibility. Within this ring of vertically and horizontally distributed services, scattered modules of activity are facilitated on widely open interior plateaus. The generously glazed façade will offer astonishing views over the widespread park area of the former airfield.

State Acquisition
Category Restricted competition, phase II
Site Tempelhof Airfield, Berlin, Germany
Client Senatsverwaltung für Stadtentwicklung und Umwelt
Design MARS Architekten: Jan-Oliver Kunze, Tarek Massalme, Philip Rieseberg, Tobias Rabold, Marcin Szczodry, Onur Özdemir, Simon Schlinkmann, Uberbau: Ali Saad, Fabian Scholz, Javier Reboreda, Dorothea Kopp, Höhler und Partner
Surface 91,918m²
Budget 270M Euro
Year 2013
Phases Competition, phase II
Project team TH Treibhaus + LAVALAND (landscape design), schlaich bergermann und partner (structure), Janowski & Co. Beratende Ingenieure (HVAC), brandkontrolle Andreas Flock (fire protection), Studio Dinnebier (lighting design)