Büroumbau - Abschnitt 1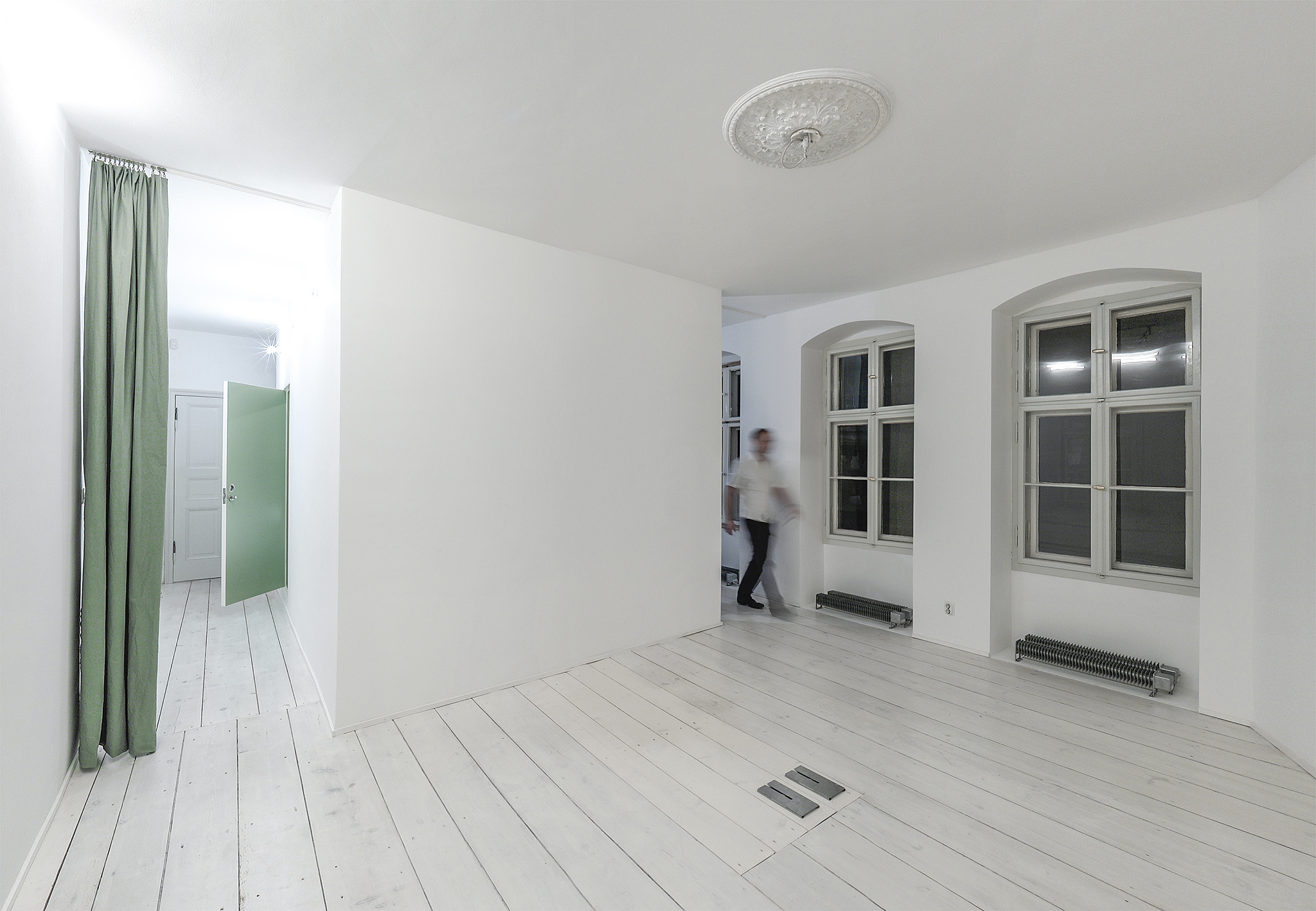 Die Büroräume mit einer Nutzfläche von 55m² befinden sich im Hochparterre des Seitenflügels eines Berliner Mietshauses in Berlin-Tiergarten. Die einzelnen Zimmer wurden durch gezielte Wandöffnungen entlang der Fassade zu einem zusammenhängenden Arbeitsbereich verbunden. Die Oberflächen wurden einheitlich weiß behandelt und Einzelobjekte farbig gestaltet. So entstehen ein anregender Hintergrund sowie eine inspirierende Atmosphäre für Bürotätigkeiten und Besprechungen. Das neu hinzugefügte Bad ist als eingestellter Kern konzipiert. Anstatt Wand, Decke und Boden mit Fliesen zu versehen, wurde die gesamte Oberfläche mit Epoxidharz-Zementspachtel versiegelt und in einem grün gestrichen. Im Jahr 2011 wurde das Büro mit einem im Bauabschnitt 2 realisierten Büro im 1. Geschoss über eine interne Treppe verbunden.
Status Fertiggestellt
Kategorie Innenraum, Umbau
Ort Berlin, Deutschland
Auftraggeber Privat
Entwurf MARS Architekten
Projektteam
Fläche 55m²
Budget 25.000 Euro
Jahr 2007
Leistungsphasen LPH 1-9
Projektbeteiligte Dipl.-Ing. Peter Westphal (Tragwerk)

The offices with a net floor area of approximately 55m² are located in the raised ground floor of a Berlin "Mietshaus" in the district Berlin-Tiergarten. The single rooms were connected to one open-plan working space through large, complete height wall openings alongside the inner courtyard façade. The surfaces were all homogeneously treated in white, while selected single objects were coloured. Consequently, a light and lively background as well as an inspiring atmosphere is created for working and project meetings. The newly added sanitary unit is conceived as a core. Instead of using tiles for walls, ceiling and floor, the entire surface was treated with a water resistant epoxy-resin-cement plaster and painted in a fresh green. In 2011, this unit was extended to the next floor and connected to another office, realised in phase 2, via an internal staircase.
State Completed
Category Interior, Conversion
Site Berlin, Germany
Client Private
Design MARS Architekten
Design team
Surface 55m²
Budget 25,000 Euro
Year 2007
Phases Phase 1-9
Project team Dipl.-Ing. Peter Westphal (structure)