Aparthotel Marcié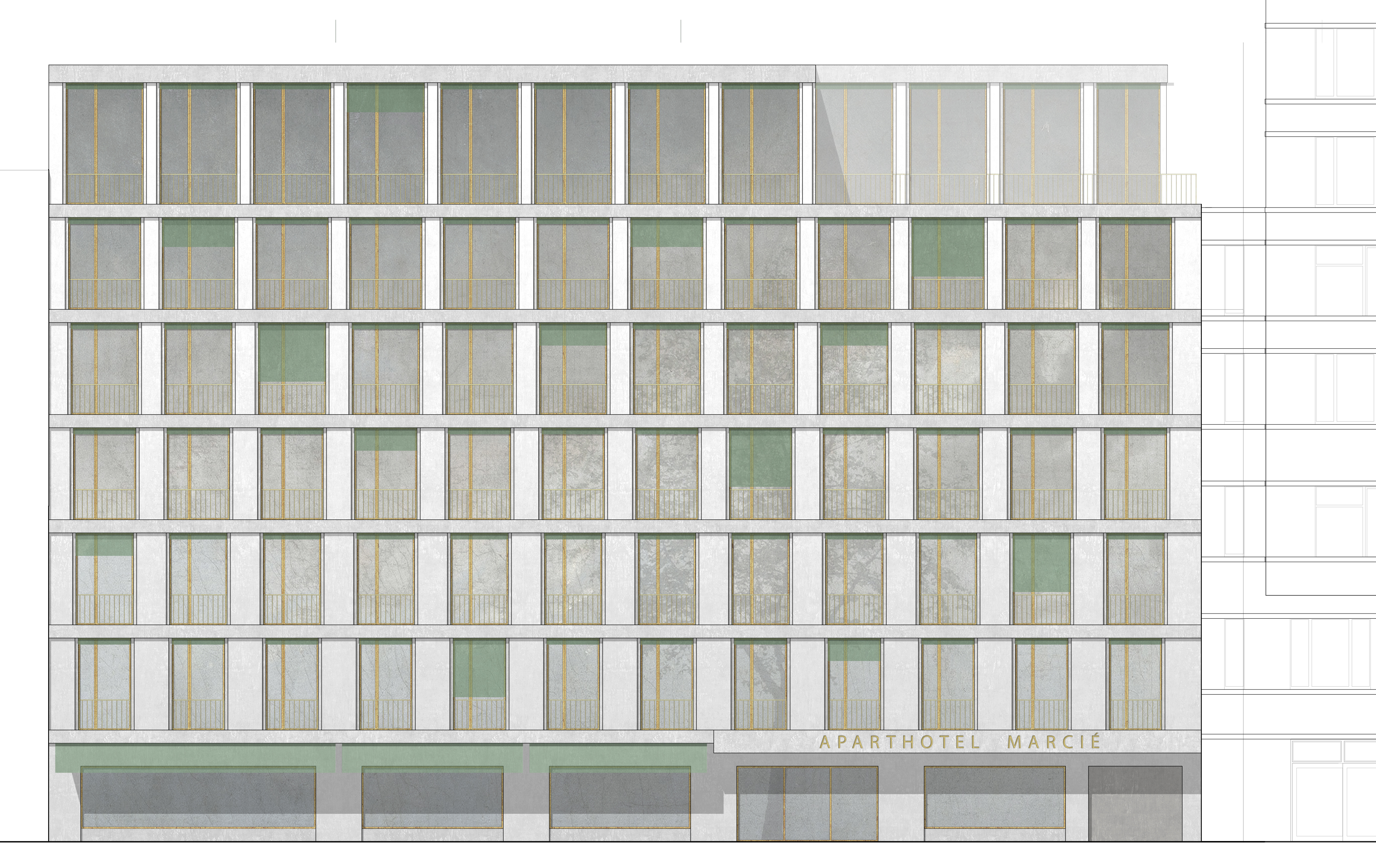 Das Grundstück befindet sich in zentraler Lage der City West der Hauptstadt Berlin. Das bekannte KaDeWe liegt mit einem Laufweg von unter 10 min in umittelbarer Nähe, ebenso der Berliner Ku'damm mit seinen vielen Einkaufsmöglichkeiten und Freizeitangeboten. Das Grundstück grenzt an das Berliner Szeneviertel Schöneberg mit zahlreichen Restaurants, Cafés und Nachtclubs an. Auf der Regelgeschossfläche des Hotels organisieren sich 7
Hoteleinheiten à 35m² um einen zentralen Mittelflur. Ein Frühstücksraum im EG, eine dem Garten zugewandte Bar sowie ein unterirdischer Spa-Bereich komplettieren das Hotel.

Status In Planung
Kategorie Neubau, Hotel
Ort Berlin, Deutschland
Auftraggeber Privat
Entwurf MARS Architekten
Projektteam Tarek Massalme, Philip Rieseberg, Jan-Oliver Kunze, Yu Kamijo, Marc Wendland
Visualisierung Imaging Collective
Fläche 3.485m² BGF
Jahr 2016-2017
Leistungsphasen LPH 1-2
The site is located in the inner city district of Berlin. The famous department store KaDeWe and the Ku'damm boulevard are within walking distance. The quarter of Schöneberg with its many bars, nightclubs and restaurants is right across the street. The standard floor area of the hotel consists of 7 two-room hotel unites of 35m². On the ground floor, the hotel houses a breakfast area and a bar oriented towards the large garden. A spa and recreation area is located in the basement area of the building.
State In process
Category New construction, Hotel
Site Berlin, Germany
Client Private
Design MARS Architekten
Design team Tarek Massalme, Philip Rieseberg, Jan-Oliver Kunze, Yu Kamijo, Marc Wendland
Visualisation Imaging Collective
Surface 3,485m² GFA
Year 2016-2017
Phases 1-2