4 Mikroapartments, Kreuzberg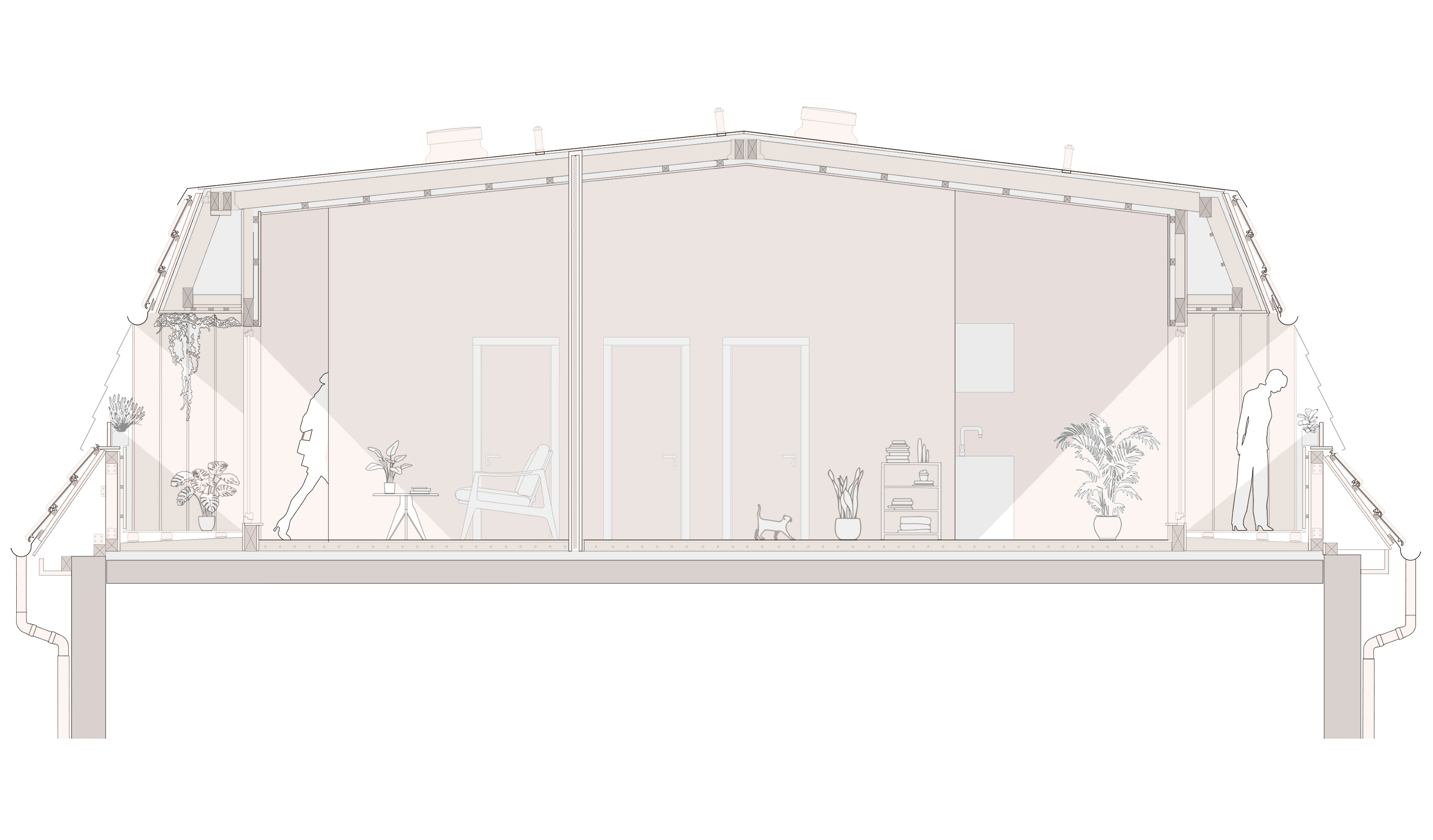 Einbau von 4 Mikroapartments in das Dachgeschoss eines Hinterhauses in Berlin-Kreuzberg.
Jede der Wohnungen verfügt über ein durch Oberlichtet belichtetes Badezimmer, einen Wohn- und Schlafbereich sowie eine eigene kleine Terrasse.
Durch die natürlich belichtete Mittelgangerschliessung werden zwei baulichen Rettungswege gewährleistet. Das Projekt umfassten zudem die bauliche Fertigstellung von zwei zusätzlichen großen Dachgeschosswohnungen im Vorderhaus. Die Planung erfolgte hier durch ein anderes Büro.

Status Fertiggestellt
Kategorie Umbau, Neubau
Ort Berlin-Kreuzberg, Deutschland
Auftraggeber Privat
Entwurf MARS Architekten
Projektteam Jan-Oliver Kunze, Philip Rieseberg, Marian Jobke
Fläche ~140m² WoFl (~35m² pro WE)
Budget 1,5 Mio. Euro
Jahr 2018-2020
Leistungsphasen LPH 1-8
Projektbeteiligte Büro Linhoff (Tragwerk)
HHP Berlin (Brandschutz)
Fotos Jan-Oliver Kunze


Creation of 4 micro appartment units in the former attic of a typical Berlin courtyard building. Every appartment is equipped with a naturally lighted bathroom, a living and sleeping space and an individual roof terrace in an urban surrounding.
By establishing the unusual central corridor with natural daylight the obligatory 2nd fire escaped is ensured. The project includes the completion of two larger front house units plannend by a different studio.

State Completed
Category New construction, transformation
Site Berlin-Kreuzberg, Germany
Client Private
Design MARS Architekten
Design team Jan-Oliver Kunze, Philip Rieseberg, Marian Jobke
Surface ~140m² GFA (~35m² per unit)
Budget 1.5M Euro
Year 2018-2020
Phases 1- 8
Project team Büro Linhoff (structure)
HHP Berlin (Brandschutz)
Fotos Jan-Oliver Kunze